I've known for while now, that my time in roller derby would soon be over. Toward the end of last year I felt the pull to move away from this world, or rather move towards a place where I felt more aligned. Through this journey I battled with my ego about letting it all go and clinging on. Competition has been in my blood for a long long time, so its been an interesting time for me in letting go.
Walking away at the end of last year was easy. I'd been spending hours in my car driving up to practice. Sometimes up to 10 hours of driving a week for 8 hours of training. Lucky I like listening to podcasts! Squeezing in life, work, my new business, friends and family and all the other things I wanted to do in between. Stepping back gave me the space I needed. Occasionally I'd miss the game and think about it but all in all things in my life stated to flow better. I started to become more aligned. Life was good.
With curiosity and an inkling I returned at the start of the year because I wanted to try out for team Australia. In hindsight I chuckle at my ambitious comeback. I mean who was I kidding, despite staying fit, I'd only been back on skates for two weeks before the tryouts. I was disappointed to learn that I did not making the squad but soon realised that I hadn't really given myself the best opportunity. There is plenty more I could say to this but Ill save that for another time! I do feel forfilled and have no regrets which was one of the nagging reasons I returned. Having not done the tryouts I'm sure I would have always wondered what could have been.
With a much clearer head I decided to play on. But soon the reasons why I stepped away came flooding back to me and it was clear that being a part of this sport was just not aligning with me anymore. Walking out of my last training session gave me a massive sense of freedom let alone the knowing that I would never have to be among the aroma of sweaty skating gear again if I choose.
I wanted to end on a high so I've given my best in these final months ending with a trip to the Big O tournament in Eugene, Oregon. In the days leading up to the trip I thought a lot about Avalanche City, the team in Fernie where this journey first started. I wondered what it would be like if I still played for them. I had no choice but to leave this team when I left Canada after my visa ran out in 2014. Joining VRDL has been an experience at the complete opposite end of the spectrum. I thought about my journey in Roller Derby and other sports Id played. Every journey had been different but all full of greater meaning that I have implemented into my life.
Touchdown in Portland where we would play a scrimmage against Rose city B team. After 21 hours in transit we pulled on our skates and rolled out into the track. The only way I can describe that game was intense. Without the rest after such a long transit, it felt like I was skating with a house on my back, dehydrated, heavy legs and a brain of fog. Woops! I should have know better.
We arrived in Eugene, Oregon and what an incredible tournament. The weekend went fast and we played out our games, winning both. My final game was fun and I went out on a high, no penalties and a great game, you can't ask for more. After doubting whether or not to go on this trip, I felt quietly content that I'd just written the final pages to this story.
So I walk away now knowing that roller derby no longer aligns with my life. I've met so many incredible people, learned so much along the way. I want to thank everyone who has been a part of this journey for me big or small, you all have had an impact on my life in some way.
This is just another chapter in my life coming to an end. And I'm not one for wasting life - that's part of the reason I have to leave this game! As we all know, as one door closes another will open. This next door I'm opening blind...I'm excited for what's to come but simply have no idea of what life will gift me next. All I can do is take the next step forward, with an open mind and an open heart. Show me the way!
Some things Ill always remember...
Avalanche City Roller Girls
Placing 2nd at Spudtown knockdown after playing 6 full games in 2 days....and the 12hour overnight mission drive home.
Avalanche Vs Guns and Roses at Spokarnage win by 2pts in the the final jam with 9 skaters.
Flamingo costumes win 2nd place at Rollercon Riedell party...in fact, all costume parties.
Weekend trips to games, boot camps, training and tournaments....I think the travel was the best part!
Victorian Roller Derby League
First making the top 30 and charter (top 20) in the league.
Royal Rumble 3rd place...draw questionable...after party fun times.
Training like crazy with the charter before getting dropped a week out from playoffs.
Queen bees to Big O tournament 2017.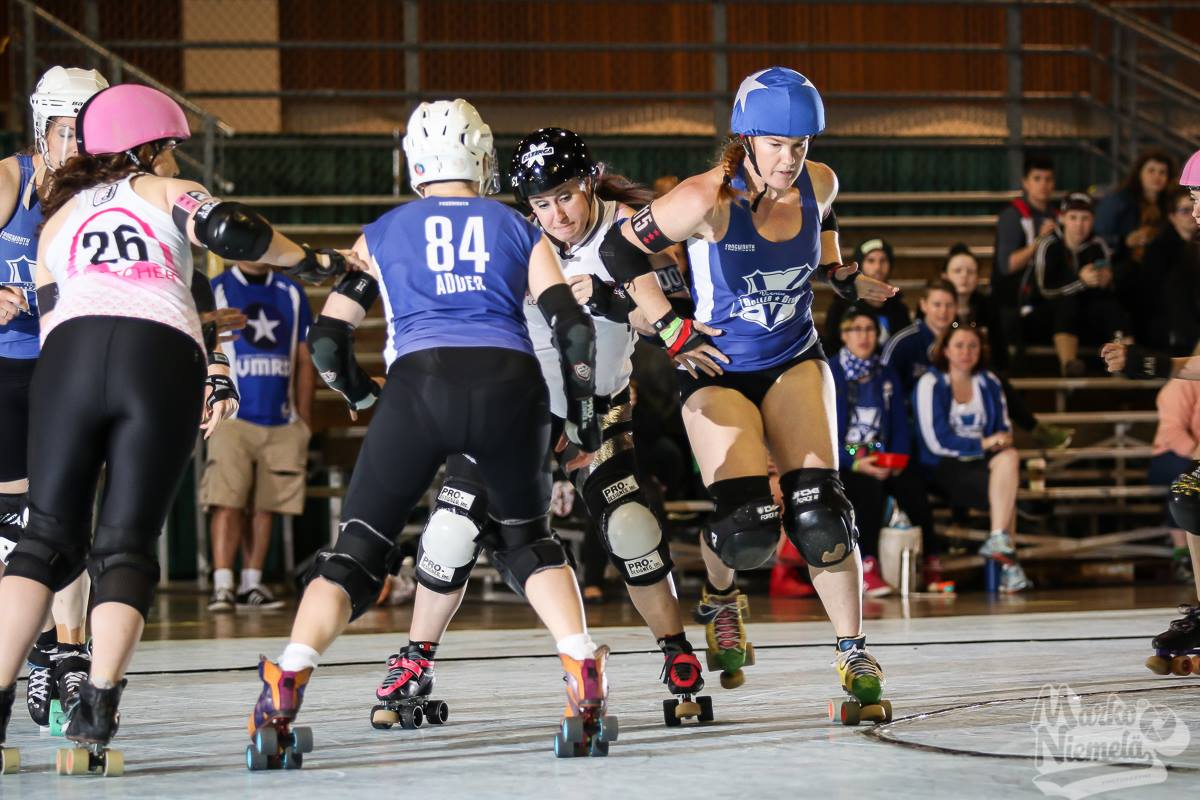 Adventures, Wanderlusters, Travellers.....You've had the most amazing adventure, travelling, working and living across this beautiful planet. Now your back to where you left off, the 'real world.' You have grown, you've seen, you've experienced. But back home, nothing has changed. You just cant relate to those around you. Ive created the WILD TRIBE for you and all of us. A place to come together to exchange experiences, share stories and create the next chapter of your life...just sign up below. Cant wait to see you there.